5 Best Juicer Mixer Grinder Brands for home in India
Juicer mixers and girders help you to cook your meal quickly. Cooking is more of a passion than just work or a task. Anyone who loves to cook also knows how much effort is required to cook the dish finally. 
There is a whole army of prep work involved. However, the knives, pans, and utensils are not enough, you need to have a good juicer mixer grinder. With a juicer mixer grinder in your kitchen, you need not worry about having to chop grind, or do other things on your own.     
It is one of the multipurpose appliances that can assist you in completing many tasks. You can easily buy these juicers online and it will lace you the hassle of going out to buy them. A juicer mixer grinder is the essential element to have in your kitchen in today's world. 
In this blog, we have given a detailed analysis of some of the best brands of juicers in 2022. Knowing their features will help you pick the right one. These are the latest models with the best features that help you out in many kitchen-related activities. 
Best Juicer Mixer Grinder with Brand in India      
Let us know which juicer mixer grinders are there that have been seen much in the kitchen household nowadays.
Sujata Juicer Mixer Grinder Powermatic Plus 900 Watts 
Sujata Juicer Mixer Grinder has white in color. It is made mostly of plastic and weighs around 6200 grams. Its blades are of stainless steel material. It has a 900 watts wattage. It is a centrifugal juicer with a 1-year warranty period. Its motor has double ball bearings and it is a low-maintenance product. Its jar is unbreakable. The V-Guard AG 754 750 Watt Juicer mixer grinder  
The V-Guard AG 754 750 Watt Juicer mixer grinder

 
This V Guard Juicer Mixer Grinder is available in the market in blue and white color. It has 4 jars of which 3 are stainless steel jars and 1 is a juicer jar. It also has a shockproof body and an anti-skid base. It is made of plastic and uses approximately 230 volts of voltage. It is easy to clean and is ergonomic and safe for use.

Prestige Iris 750-watt mixer grinder with 3 stainless steel jars 
This Prestige Juicer mixer grinder is made of plastic and has 3-speed levels namely low, medium and high. It gives you an amazing capacity of 1.5 liters and it has with it a total of 2 years of warranty. It also has innovative features of a jar safety lock to ensure safety. It has super efficient blades made of stainless steel.  

Amazonbasics Premium 750-watt mixer grinder with 3 stainless steel jars
It has black and white color. It is composed of metal and plastic. Its blades are made of stainless steel. It has a voltage of 240 volts. It has a double mixer grinder with sturdy jars and an additional juicer jar. It also has liquidizing jars.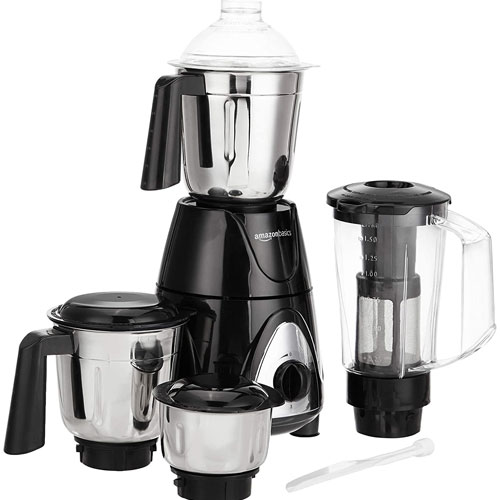 Preethi Taurus Star MG-260 Mixer Grinder 1000 watt
Preethi Juicer mixer grinder also has a wonderful warranty of 2 years. It is a 1000 W mixer that is equipped with a 1.5 L super extractor jar. It has a motor with turbo vent technology. It also has a safety indicator that indicates when the mixer is overloaded. Bajaj juicer mixer grinder also has similar products under budget. Here you can see the top bajaj products with the minimum market price.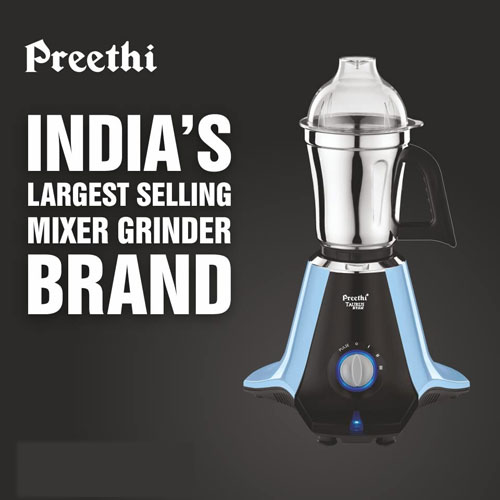 Juicer Mixer Grinder Price List in India
Having discussed these top Mixer grinders, we will now have a quick look at their price list in India. 
| Mixer Grinder Name | Price of Mixer Grinder |
| --- | --- |
| Sujata Juicer Mixer Grinder price Powermatic Plus, with chutney jar | INR 6,045 |
| Sujata Juicer  Mixer Grinder price with Multimix and coconut milk extractor | INR 6,815 |
| V-Guard AG 754 750 Watt Juicer mixer grinder price with 4 jars | INR 3,089 |
| Prestige Iris 750-watt juicer mixer grinder price with 3 stainless steel jars + 1 juicer jar | INR 3,249 |
| Amazonbasics Premium 750-watt mixer grinder with 3 stainless steel jars + 1 juicer jar | INR 3,149 |
| Preethi Taurus Star MG-260 Mixer Grinder 1000 watt | INR 6,999 |
| Sujata JUICER MIXER GRINDER price Powermatic Plus 800 Watts | INR 5,345 |
| BMS lifestyle centrifugal juicer machine juice extractor  | INR 2,999 |
| Singer NUTRIO 350 W Centrifugal juicer machine | INR 2,299 |
| Philips Juicer machine 500 Watts | INR 5,199 |
How to pick a Best Grinder Juicer?
While picking a juicer processor, numerous significant elements ought to be thought of, for example, juice yield, plan, usability and cleaning, and crushing limit. How about we look at them in more detail?
The better it is, the higher the juice yield. As referenced before, the juicer blender plan of his processor affects this. The following significant element that influences how much squeeze you crush is the force of the engine.
Most squeezing processors available have a standard plan. The coupler is fitted with extraction cutting edges and has a juice chamber at the top with a feed chute.

Pick an item with a removable mash holder that can be eliminated freely without eliminating the juice chamber. It is helpful when you need to juice a great deal of fixings immediately. 
For juice processors, you can utilize a toothbrush to clean the extraction edges. Straightforward plan models with not many sections are favored on the grounds that they are not difficult to clean.

After pressing, clean the crushing connection right away. In any case, organic product colors will forever debase the chamber. Likewise, the juice buildup frames a flimsy caramel film that is hard to eliminate.
The juice yield, usability, and cleaning of a squeezing blender are significantly impacted by its plan.

A lattice channel and a wide extraction sharp edge are great for the juicer. Likewise, ensure there isn't an excessive amount of room between the top of the squeezing chamber and the sifter.

This is significant in light of the fact that regardless of whether a piece of organic product skips off the screen, it will in any case contact the front of the juice chamber and return to the preparing seat. Fall into the mash assortment chamber.
As the name proposes, a squeezing processor is a mix of a juice extractor and a blender processor.

For crushing both wet and dry fixings, most choices incorporate a few dishes.

In the event that you much of the time use margarine, chutneys, masala, ginger garlic glue, and different food sources, get a blender processor with an engine of something like 750 watts. 
Apart from that you can also go for Surya roshni limited 1 dgtukhj 750 juicer mixer grinder. Its function are easy to use and come with 3 years of warranty.

But Sujata Powermatic and Preethi Zodiac are great decisions in such a manner. To involve the cup for serious crushing, the 500-watt engine choice will get the job done.
Conclusion
To sum up, we can say that mixer grinders are very useful in your kitchen tasks. There are different brands that are leading and have good features in this. Some of them have been mentioned above in this blog. You can take a look at these and read about their specifications and attributes. It's high time you introduce one of these in your kitchen to help you ease out the work of kitchen cooking. They have reasonable prices also. You can buy them easily online or even after visiting their showrooms.