All You Need To Know About Sarathi Parivahan Seva
Sarathi parivahan seva. As you may guess with the help of the title itself Sarathi parivahan seva is all about transportation modes or vehicles!
Sarathi parivahan seva is an online portal initiated by the Ministry of Road transport and highway of the Government of India. It covers all the basic services and provides people with all the things under one portal.
Let us drive towards the highway of the services and see where we reach. Do you want to know about this in detail? Then let's start the ride.
Parivahan Seva And Its Necessity
When we talk about something the foremost question that appears on our mind is "Well,what is the need for this?".
"Why should I know about this?"
"How does it benefit me?"
Now we are going to tell you why this portal is needed and what it stands for.
 Parivahan seva is a portal for
Licence-related services.

A place for application of driving school.

Online test appointments are available on the portal.

Vehicle-related services are also covered.

Vehicle registration, fancy number allocation.

National permit.

It gives a unique and common portal for manufacturer-related services.

VLTD maker, SLD maker, CNG, homologation

,etc.
Being an efficient portal it offers its users all in one hub for the production of various services.
One can enrol via the site and can avail its benefits.
Usage Of Sarathi Parivahan Seva
Yes it is an all-in-one portal and it offers many benefits. The users besides getting the services mentioned above, can also get other benefits specifically from sarathi parivahan seva portal.
Sarathi Parivahan Seva Offers
Time saving as it has many options on the site available.

Single hub for all users.

Online registration.

Online driving tests.

Online tracking system.

Driving licence service.

Vehicle registration service.

Uniform standardised software.

Simple log in and registration process.
Vahan portal is specifically for vehicle registration services and Sarathi portal is specifically designed for the usage of driving licence services.
Various kinds of Applications Available At Sarathi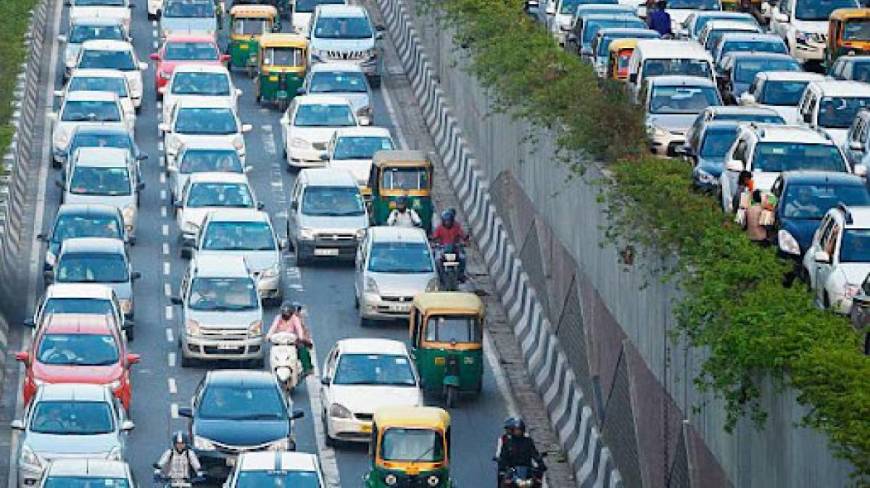 There are many kinds of options available at Sarthi portal which enables one to use that portal for the fulfilment of various needs.
Let us talk about what specific options you can see on that portal.
The varieties of application forms are as follow
Medical Certificate.

Learner's Licence form's application

Form of Application for issue of an international driving permit to drive motor vehicles in other countries.

A driving certificate that is issued by an accredited driving training centre 

International Driving Permit Application Form 

Form for Driving Licence (Laminated or Smart Card Type).

State Register of Driving Licence application form.

Form of the national register of driving licences.

Form of Licence for the Establishment of a Motor Driving School.

Accreditation for driver training centre form.

Application form for accreditation of driver training centre

.

Form of Application for Renewing a Licence to Engage in the Business of Imparting Instructions in the Driving of Motor Vehicles.

Application to renew the accreditation of the driver training centre.

Register Showing the Driving Hour.
Informational Services At Sarthi Parivahan Sewa
Various kinds of information services are available at the portal which are mentioned below.
You can get to know your vehicle or licence details.

Licence types

– learner's, permanent, renewal, duplication, addition of class, International driving permit, licence-related fee and charge
Objectives of Sarathi Parivahan Sewa
Few highlighted objectives are there of sarthi parivahan seva such as
To provide all the better services to the transport department.

To Implement government policies and to track them.

Quick information supplied to other government sectors.

To provide Instant access of vehicle or driving licence services and their information.
How To Apply For A Learner's Licence?
These are the steps to follow for Learners' Licence for New Learner's License (Flow may differ from state to state):-
First Visit https://sarathi.parivahan.gov.in/

Now Select the concerned state.

After that Click on "Application for New Learners Licence" from the "Learner's License" menu.

Now Fill up the Learner's License application Form.

Proceed by Clicking on the Next Button to proceed.

After this, Visit RTO on a scheduled date with your original documents and fee Slip.
The Process For Getting The Benefits Of Licence-Related Services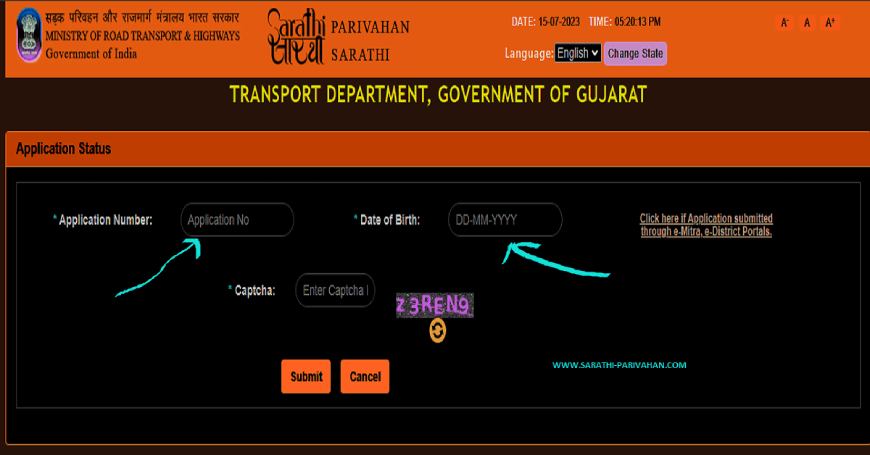 In this section, you can know how you can use the options or services such as
Cancellation of the NOC

Change of address in your driving licence

Change of biometrics in the driving licence

Change of date of birth in the driving licence

Change of name in the driving licence

Cov conversion (which is applicable only in some states)

The driving licence extract.
You need to follow the below-mentioned process to avail these services.
Please follow the process below to apply for services on Driving Licence:
Visit Here – https://sarathi.parivahan.gov.in 
Step 1 – Select State  
Step 2 – Driving License 
Step 3 – Services on Drivers License 
Step 4 – Continue Instructions 
Step 5 – Enter Drivers License Number & DOB 
Step 6 – Submit
How Can You Upload Documents on The Sarathi Portal?
Below are the steps mentioned by which one can upload documents on the Sarathi Parivahan Sewa portal.
First, you need to visit the site official website of Sarathi Parivahan

Now you have to select the concerned state.

After that, you can click on the "

Upload Document

" option visible at the site.

Simply you can now select "Upload Document/Scanned" or "

View Document

".
By this, you can easily upload your documents on the portal and after uploading you can view the documents uploaded for verification purposes.
The procedure of fees and other charges may vary according to services and one can track that process by visiting the official site of parivahan sewa.