AOC MONITORS – AN ADVANCEMENT IN TECHNOLOGY
With the advancement in technology, the new product is being launched every day in the market. The computer is the most important invention of today and each and every part of a computer system has seen tremendous change over the past few years. One of the esse
these years. LED monitors are the latest and most advanced monitors available in the present scenario. LED monitors are admired by everyone due to their minimum thickness and high picture quality.
AOC is one of the most popular companies in the world with many years of experience. One of their most popular and recognized products is the AOC LED Monitors. AOC monitors are known for outstanding user friendliness and innovative technology.
They have a wide selection of LED monitors to suit the requirements of everyone. The outstanding features of these monitors keep them apart from the other brands. 32-inch LED Tv is can also be used as a monitor. It is the perfect alternative to a monitor.  
Some AOC monitors come with USB 2.0 ports for quick and easy use of USB-capable devices. AOC monitors have many power-saving features to lower the power consumption even more. Due to all these facilities, AOC monitors are Energy star and EPEAT certified.
AOC LED monitors come in varied sizes with each having different features. AOC LED Monitors are not only of high quality but they are affordable too especially when compared with other brands. The market is flooded with several AOC monitors but some popular models are discussed under.
AOC E1670SWU 15.6Inch Wide LED Monitor is one of the latest models by AOC. One can buy this monitor because of its outstanding performance and extremely affordable price. It is a highly advanced and efficient LED monitor for our system. AOC E1670SWU LED Monitor comes with dimensions of 370.7 mm x 298.6 mm x 142.8 mm in size.
The net weight of this monitor is 0.87 Kg and the gross weight is 1.5 Kg. This monitor is highly thin and compact. It is convenient to place this monitor anywhere according to the convenience. This monitor comes with a display of 15.6 inches with a resolution of 1366 x 768 pixels. This monitor comes with number of user controls which include Luminance, Color Temperature, Color Boost, Picture Boost, Reset mode and Exit mode.
AOC has launched another E2060SN. It is a perfect combination of stylish look with high technology.
This monitor comes a display of 20 inches. AOC E2060SN comes with e-Saver Software which enables the users to preset the low power configuration of the monitor when the computer is in On, Off, Screen Saver, and Sleep mode.
This monitor enables the users to set a timer to automatically turn off the monitor to save power and cut down the electricity bills. It is a sleek and stylish monitor. AOC E2060SN 20-inch LED Monitor comes with really wonderful features.
It offers clear and vibrant images. It is a great device at affordable and reasonable prices. AOC T2242 we 22 LED Vitta TV Monitor comes with 21.5 inches wide 1920 x 1080p HD LED display. This affordable monitor comes with a slim body to occupy less space. The monitor comes with dimensions of 521 mm x 400.5 mm x 179.5 mm in size and the weight is 4.5 kg.
For the convenience of the users, the monitor is embedded with lots of controls like Power On/Off, Menu, and Source. This monitor consumes less electricity. AOC T2242we is a monitor that comes with a wonderful range of features with great quality at affordable prices. Buyers can buy AOC monitors online at reasonable costs.
For what reason do you lean toward AOC screens?
AOC offers an unbelievable scope of Driven LCD screens that carry a wonderful focus on your indoor space.

Produces the

greatest computerized shows

with elements, for example, IPS, MHL, Retina Show Screen, and DVI to HDMI.

If you have any desire to purchase quality things, AOC offers a wide assortment of screens at reasonable costs.
Best Aoc Monitors
Searching for a quality PC screen with bunches of ports at a reasonable cost? AOC is incredible speculation! The universally perceived Taiwanese organization offers a large number of mechanically prevalent LEDs and LCDs with appealing plans.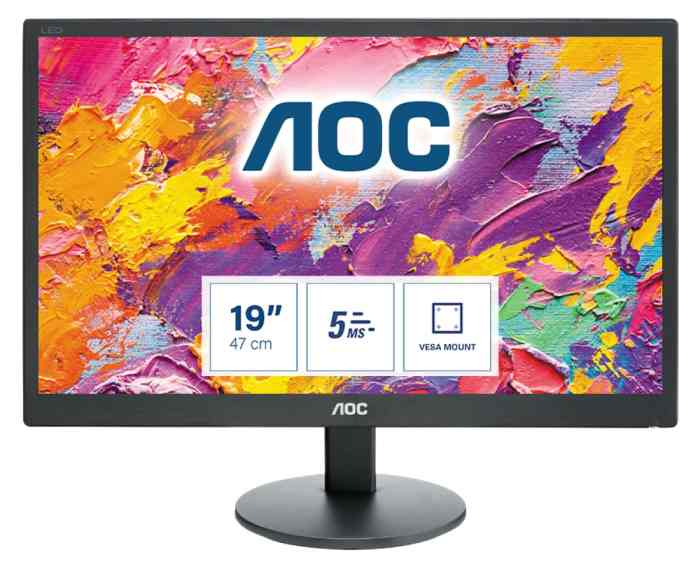 An unobtrusive screen in the 15.6 to 24-inch Full HD range is ideal for home diversion, work, and gaming. The smooth and elegant AOC PC screen includes a top-notch IPS board, phenomenal reaction time, and a high invigorate rate for clear tones, dazzling pictures, and magnificent survey points.
You may also like to read – 5 Best 55 Inch Tv in India
Top 8 Aoc Computer Monitors Models                   
| | |
| --- | --- |
| AOC 18.5 inch LED Backlit e970Swnl Monitor                                       ₹5890 | AOC E970SWN 18.5 Inch LED Monitor                                                 ₹5275 |
| AOC E2270SWN 21.5 inches Full HD LED Monitor                           ₹6999 | AOC E2070SWNL 19.5 Inch LED Backlit LCD Monitor                           ₹7700 |
| AOC 24 inch WIDE LED E2450SWH Monitor                                         ₹8999 | AOC E970SWHEN 18.5 Inch HD Ready LED Monitor                           ₹6349 |
| AOC 22B1HS 21.5 inch Full HD Monitor                                               ₹8450 | AOC 24B1XHS 24 inch Full HD Monitor                                               ₹11049 |
Conclusion
Regarding screen innovation, AOC is the world chief. For over 50 years, AOC has conveyed a better TV experience than a huge number of enthusiastic clients all over the planet. The organization currently offers a great many stylish screens for home, work, or gaming in more than 120 nations. TPV Innovation Restricted, the world's biggest producer of LCD screens, possesses the AOC brand.