Know All About Heart of Stone Movie – Review, Rating, Cast
The debut of "Heart of Stone," a compelling 2023 American spy action thriller starring an ensemble cast of worldwide talents, is ready to enchant the silver screen. Alia Bhatt, the Indian starlet making her long-awaited worldwide debut, is among them. 
The film offers an action-packed plot set amidst a background of espionage, enticement, and high-stakes missions. Bhatt's part in the film lends a distinctive flavour to the mix, as she plays an intriguing woman who contrasts with Gal Gadot's bold accomplishments as the lead. 
This blog delves into the intriguing elements of "Heart of Stone," covering the film's idea as well as its creators' creative process.
Background of The Movie
"Heart of Stone" is a 2023 American spy action thriller film directed by Tom Harper. Greg Rucka and Allison Schroeder collaborated on the script, which is based on a tale by Rucka. Gal Gadot, Jamie Dornan, Alia Bhatt, Sophie Okonedo, and Matthias Schweighöfer star in the film.
The plot revolves around international intelligence officer Rachel Stone, who is assigned a risky assignment to protect a mysterious and desired artefact known as "The Heart." Stone has been tasked by the Charter peacekeeping organisation with keeping the precious MacGuffin out of the hands of opponents.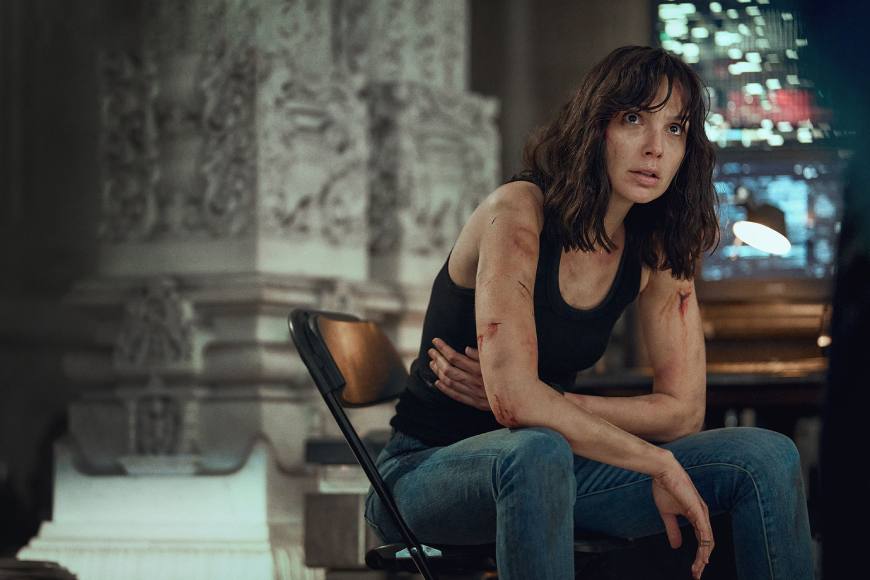 The film's development began in December 2020, with Gadot's confirmation as the lead actress. In the following month, both Tom Harper as director and Netflix as distributor were announced. In the early months of 2022, the remaining cast members were formally unveiled. 
From January through July of that year, principal photography took place in several European sites. More story specifics, character interactions, and plot twists are expected to be explored in the film.
Here you can also enjoy these Tamil blockbuster movies with your family and friends. 
Plot
An MI6 team led by Rachel Stone acting as tech support seeks to retrieve prospective asset Mulvaney in the Italian Alps. While agents Parker and Yang seek to catch Mulvaney, she enters a casino to crack security encryption. 
However, Mulvaney's security steps in, resulting in a cable car standoff. Stone assists from a distance, wiping out the security crew, but Mulvaney is poisoned by cyanide.
Back in London, the MI6 crew is chastised. Stone meets Charter, a covert peacekeeping organisation worried about the role of hacker Keya. 
They travel to Lisbon, where they are attacked, and Stone exposes her actual identity. Parker, who is working with Keya, is looking for a powerful artefact known as "The Heart," which is guarded by Charter. Parker paralyses Stone and plants a hacking device in his body. Stone, resurrected at Charter, dismantles the device, preventing an assault on "The Heart."
Despite being removed from the case, Stone calls Keya and vows vengeance. Charter works hard to keep "The Heart" out of the wrong hands.
Also watch these Amazon mini tv web series without any subscription charges. It is absolutely free for all the age groups. 
Cast of Heart of Stone
Gal Gadot as Rachel Stone

Jamie Dornan as Parker 

Alia Bhatt as Keya Dhawan

Sophie Okonedo as Nomad 

Jing Lusi as Yang 

Paul Ready as Bailey 

Jon Kortajarena as the Blond 

Archie Madekwe as Ivo 

Matthias Schweighöfer as Jack of Hearts[ 

BD Wong as King of Clubs

Glenn Close as King of Diamonds

Mark Ivanir as King of Spades 
You may also like to know about these top malayalam movies in India. 
Role Of Alia Bhatt In The Movie
Alia Bhatt makes her international debut in "Heart of Stone," in which she plays a significant part. She plays a 22-year-old IT specialist and excellent hacker from Pune in this action-thriller movie.
Her heroine spars wits with Rachel Stone (Gal Gadot) without resorting to gravity-defying stunts. Unlike Gadot's Wonder Woman, Bhatt's persona avoids spectacular physical exploits. 
Under the direction of Tom Harper (known for 'Peaky Blinders' and 'Wild Rose') and with a story written by Greg Rucka and Allison Schroeder, Gadot easily shifts from superhero and heist roles to a super-spy. 
The film creates a world in which Gadot's extraordinary athleticism meets spectacular spectacle and technical expertise, culminating in a fascinating cinematic experience.
The movie is 120min long.
11th of august 2023 on ott platform Netflix 
It is approximately rated 5.5/10 and is PG-13
The film "Heart of Stone" garnered mixed reviews from reviewers. On Rotten Tomatoes, just 28% of 68 reviews were upbeat with a 5.5/10 average rating. While Gal Gadot's action performance is exciting, the film suffers from undeveloped characters, a formulaic narrative, and conventional scenes of combat, according to critics. The film has a weighted average score of 45 out of 100 from Metacritic, signifying "combined or mediocre criticism."
Apart from that, Here are some best movies to watch in Telugu with action, suspense and thrill. 
Conclusion
The film's combination of heart-pounding action, espionage, and technical wizardry, directed by Tom Harper and fueled by Greg Rucka and Allison Schroeder's script, provides a cinematic experience that will leave moviegoers on the edge of their seats. 
"Heart of Stone" emerges as a monument to the energy and range of talent in the world of cinema, with Gal Gadot's transformation from superhero to superspy and Bhatt's entry to the worldwide arena. This spectacular action-thriller is destined to light up screens and leave its mark on world cinema.
Consider Reading – Best south movies to watch