Laptops SSDs: Find the ideal one for you now
Choosing the best SSD for a laptop may not be an easy task. It differs from person to person. Most people who want SSD for laptops are tired of waiting for many hours to transfer data. It also boots up your system, and productivity suffers too.     
Getting the best SSD for laptops is crucial, especially in 2022. If your computer suffers from poor storage, t is not very likable. Your processor may be capable of processing billions of cycles per second, but it is a waste of time waiting for your hard drive's data.     
But the real question is, which SSD is best for your laptop? Is it the one with 256 GB or with 512 GB? We will consider some points beforehand to find answers to these questions. Let us go through this blog to find the best laptop SSD.
The first question is – 
How much storage do you want for a laptop?

 

         
Some laptops have already been installed with the best SSD for laptop. The least popular is the 128 GB SS. They have only 25 % of the total capacity of the 500 GB SSD found in many laptops in 2022. 
You can use Windows 10 laptop, office 365, chrome, and Photoshop with it. But the drive will fill up quickly if you start working on files or updating the windows. If your SSD is full of more than 75 %, the SSD performance will be degraded.
The second question is
which one is better for Laptop: SATA SSD or the PCle NVMe SSD?

           
The usual hard drives use the same SATA SSD or SATA 3 interfaces as their hard drive. on the other hand. Some laptops use the PCle-NVMe interface. The fastest NVMe and PCle SSD can read and write four or five times the usual SATA disc. Most PCle drives are 1,5 times quicker and sometimes even more.
A PCle will give 200 to 500 MBps. These can be found in high-end gaming PCs and give a transfer rate of 1,000 Mbps. 
The third question is- 
What is Emmc storage or Emmc Memory?

 
The most affordable laptops are emmc or embedded multimedia card memory in 32 GB or 64 GB configurations. SSDS comes equipped with a storage controller chip and a quick NAND flash memory which is cheaper and has the same components as an SD card or USB stick. You should also use Caddy for SSD which makes your SSD clean from the outside and also protect it from damage.  
The fourth question is –
Do SSD Laptops have any benefits?

     
Well, the simple answer to this question is- yes! SSDs are undoubtedly becoming very famous because of their utility in lap; tops, desktops, PCs, and servers.           
Speaking about benefits, SSDs are more beneficial than HDDs owing to many reasons. Four of them are discussed here.
Heat is the cause of drive failure as the moving of the HDD generates enough heat to cause its failure. SSDs lack this, so they operate to a lower temperature and deliver a good performance. It is also reliable as it is resistant to spills, rattles, shocks, and other things. 
It is safe to store data in an SSD. They let your computer start quickly and offer faster data transmission. They can also process the data the blazing speed, especially when the current programs require a massive volume of data.
SSD is small in size and has a magnetic head, so weighing less than a big HDD. They are the best for laptops, tablets, and other electronic gadgets because of their compactness. They are also noiseless than HDDs because they can be irritating at times. Now Everyone can easily carry an External SSD because of its lightweight.  
The Year of the best SSD for laptops in 2022

 

 
ATTRIBUTES of SSD Laptop 
It has a CPU of 2.2 GHz intel core i7 and a RAM of 32 GB. It has a storage of 512 GB, and the battery lasts up to 6 hours.
It has a CPU of 2.8 GHz intel core i7-7700HQ and a RAM of 16 GB. It has a storage of 1 TB and a battery that lasts up to 4 hours. 
It has a CPU of 1.8 GHz intel core i7-8550U and a RAM of 16 GB. It has a storage of 512 GB, and the battery lasts up to 13 hours.
It has a CPU of 1.8 GHz intel core i7-8565U and a RAM of 16 GB. It has a storage of 512 GB, and the battery lasts up to 14 hours.
When should you consider installing an SSD for your laptop?
In recent years, solid-state drives (SSDs) have grown in popularity because of their quick read and write speeds, dependability, and energy economy. 
If your laptop still has a typical hard disc drive (HDD), you might be unsure of when you should decide whether to switch to an SSD. This post will discuss various warning signals that your laptop needs an SSD upgrade as well as instructions for doing so.
Slow Boot Times:

Slow boot times are one of the most prevalent indicators that your laptop requires an SSD. Your HDD is probably at blame if it takes your laptop a long time to boot up. Your laptop will feel considerably speedier and boot up faster thanks to an SSD.

Continuous Hard – disk Activity:

If you continuously hear your computer's hard disc spinning, it's probably having trouble keeping up with your needs.





This may result in sluggish performance and show that your machine need an SSD. You'll find that your laptop operates considerably more quietly and effectively with an SSD.

Low Storage Space:

An SSD might be useful if the storage on your laptop is getting low. Compared to before, SSDs are now available in considerably bigger sizes, so switching to one might provide you the extra storage capacity you want.





Moreover, SSDs are a better option for laptop users than HDDs because they're speedier and consume less energy.
These are the best ssds for gamers to improve the quality of the game. The SSDs are specially designed for gaming. You can also use it for your office work. 
Steps for Upgrading to an SSD
The good news is that upgrading is rather simple if you've decided that your laptop requires an SSD. Here is how you do it: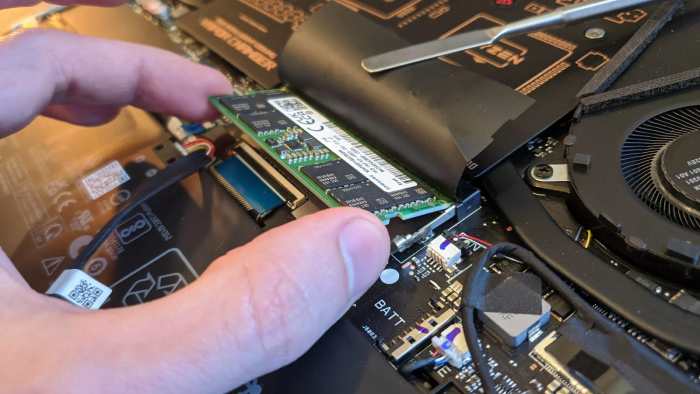 Establish Suitability

:

The very first step is to confirm that an SSD may be used with your laptop. To be sure that your laptop can handle an SSD and that you acquire the proper one, you should verify the manufacturer's specs or seek expert advice.

Backup Your Data

:

You must preserve your information before starting the update procedure. To make sure that users don't lose any crucial files during the update, you can utilise an external drive, cloud services, or other backup techniques.

Install the Computer System

: You must install the computer system once you have installed the SSD. A

USB pendrive

or other installation media can be used for this. To guarantee a successful installation, be sure to carefully follow the directions.

Restore Your Data

: Lastly, you may use your

backup to restore your data

. This could be a while, but it's crucial to make sure that your new SSD has access to all of your files and documents.
Finally, switching to an SSD can greatly enhance your laptop's performance. It could be time to upgrade to an SSD if you're dealing with slow boot times, sluggish programme loads, frequent hard disc activity, or a lack of storage space. With the appropriate equipment and some.
Conclusion
To sum up, these were some of the best SSDs for laptops. You can study about them and make your purchase accordingly. These SSDs are useful because of their many benefits discussed above. According to your laptop, you have a select one. 
Consider Reading:-