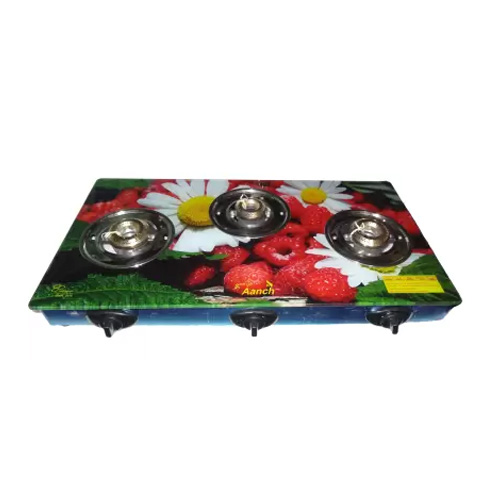 Surya Aanch 3-Burner Gas Stove
Automatic Gas Stove
The number of burners is 3
Glass body material
Available in multicolor
29
people are viewing this right now
Description
Gas stoves are the most affordable and convenient kitchen appliances that you can find in any household. What started out as a single burner gas stove, today, there are four to five burners in a single gas stove. 
But out of these different burner gas stoves, the three-burner one is considered the most ideal. Manufacturing only the best since 2015, Suryaflame was started with the vision of connecting people with perfect gas stoves. 
No wonder will you find the best 3-burner gas stoves here. Out of all their models, the Surya Aanch 3-burner gas stove tops the list and is found in most Indian houses. 
Why should you buy the Surya Aanch 3-burner gas stove? 
With so many gas stove models in town, it can get a bit puzzling to identify the best ones. But with the Surya Aanch gas stove, there is no reason to keep room for any second doubts. Continue reading to know why you should buy Surya's gas stove. 
It is multicolored which makes it a great buy for its look. Because of its unique design and colors used, people find it an interesting addition in their kitchen. If your kitchen has a simple layout, this gas stove will add further charm to the room. 

It has a toughened glass surface on top of the

stainless-steel body

. Not only will the body be highly resistant to rust and the collection of moisture but also be resistant to shocks and bumps. The glass surface top does not get heated up easily which means no cracks or scratches for a minimum decade. 

It is small and compact in size. You do not need any specific large area for its placement and it can fit even in a small corner. Wherever you place it, just ensure that there are no flammable materials nearby to avoid any unfortunate mishaps. 

It works on an

automatic ignition system

with the best ergonomic knobs. When you want to turn on or turn off the gas stove, you can easily do so by operating the knobs. Knowing when the stove is on or off is extremely simple with the help of these knobs. 

The Surya Aanch 3-burner gas stove is very easy to clean. Even if you spill or drop something on the top of the gas stove, you can wipe it or scrub it off easily. It does not take too much effort or time to clean this gas stove. 
Also Read – Best Gas Stove Brands In India
What is the Surya Aanch 3-burner gas stove price? 
The Surya Aanch 3-burner gas stove price differs on different eCommerce platforms. You can get this gas stove priced at Rs. 2,450 on Flipkart. With its many benefits, this makes it an extremely reasonable price. 
You may also like to read – Electric Kettle for a Convenient and Easy Kitchen Routine
Conclusion 
If you get your hands on the Surya Aanch gas stove with three burners, then, you should consider yourself lucky to be able to purchase a good durable gas stove. And, if you haven't, then, you can consider getting your hands on this gas stove today!