The Complete Guide to Portable Speakers with Microphones and How They Are Revolutionizing Podcasting
Introduction of Portable Speaker with Microphones
You can never take a TV or laptop into the kitchen or bathroom or take it anywhere when you need a portable speaker with a microphone. It's a portable device. 
A sound device or machine is designed to be easily carried or moved, especially because being of a lighter and smaller version than usual is called a portable speaker, and a neck microphone or body microphone, or lapel microphone is a small device used for public speaking applications to allow hands-free operation is called portable mic. A mic or mike is an electronic device that translates sound vibration in the air.
Below here is some best portable microphone device name:
MAONO AU-100 Collar Auxiliary Mic

Samson Meteor

Blue Snowball iCE

Blue Yeti Nano

Sennheiser e935
What is The Difference Between A Single-Directional and Multidirectional Mic
Single-Directional microphones are known as unidirectional or cardioid microphones, and multidirectional microphones are also omnidirectional microphones.
In a unidirectional mic, off-axis colouration is typically less smooth; In an omnidirectional mic, off-axis colouration is smooth and even.
In omnidirectional mic, the near field is good, but the diffuse field is less precise;
In a unidirectional mic, the near field is good, and the diffuse field is also good.
Many engineers are scared of using the omnidirectional mic in multidimensional mic because of its leakage. The buzzword can often cause problems in many situations, and that's why the directional mic is chosen by habit. A directional mic may be a perfect choice, but sometimes an omnidirectional mic might perform better.
Omni mics have no proximity effect, and uni mics have proximity effect because of that it will avoid some leakage. So, in the end, you may have some less leakage, but this causes the boomy sound.
Unidirectional microphones have a certain characteristic to distort more than omnidirectional microphones, which is essential when choosing a high sound pressure level or working with it. If you are going to work with a directional microphone, be sure to use a low distortion and high headroom before clipping anything.
Feedback depends on many things. Where directional microphones' feedback is suddenly and unexpectedly higher than an omnidirectional microphone.
Also Read: Pull Some Strings of These Best Guitars in India!
The Pros and Cons of Professional VS Consumer Grade mics:

 
Microphones are a transducer, and it is used to convert sound waves into electrical energy in the air.
Pros of using a microphone
We can manage them on stage and anywhere.

The wireless microphones give the performance space on the stage.

Most of the microphones tolerate extremely

high SPL without any damage

or distortion 

A microphone will have a better frequency response.

Most of the microphones model don't need any power supply and are easy to handle 

They are small in size, also lightweight devices.
 

Cons of using a microphone
Noisey sound or no radio reception.

At the same time and place, a limited number of radio channels and operating microphones are available.

Lastly,

voice recognition system software

is not as precise as typing manually, and the sound files can utilize a lot of computer memory in the device.
Which Features Should You Look for in Portable Speaker with Mic
A portable speaker is a handy and pocket-friendly accessory for your smartphone or laptop, but picking the best one can sometimes be a headache, especially given the Uttar number of alternatives in the market.
Features to Look in a USB Mic
If You Need a Quality Mic, Then, First of All, You Have to Give Importance to Some points
Type of Microphone.

Choose a Large Diaphragm Mic to make the sound source appear bigger, much more beautiful, and adorable.

Look for a Good Frequency Range.

Consider a 24 Bit Mic.

Check Out the Chart.

Maximum Sound Pressure Level.
Many folks operate with USB microphones to enhance their products' audio standards, streaming, gaming, and interviews. 
One of the great advantages of using a USB microphone is that you can throw the mic anywhere, like- in your bag or case; also, you can carry it in your pocket and access it anywhere without taking any bulky equipment sets with you.
USB mics give anyone access to extraordinary sound quality or adorable sound quality with a single cable connecting to your system and no expertise needed.
You May Like to Read: The 5 best 32-inch TVs in 2022
How to Choose the Best Portable Speaker with Mic for Your Needs
There are a few different types of portable speakers. The most popular type is the Bluetooth speaker. These speakers can be connected to a variety of devices, including smartphones, laptops, and even some car stereos. Bluetooth speakers come in a variety of sizes, so it is important to find one that will fit well in the space you have available. If you want to pick up the best portable speaker with a mic, you need to be very careful.
Clarity and Detail

Depth of Sound

Check for the ports on the speaker

Battery Life

Size

Audio Quality

Available Ports

Water and Dust Resistance

Smart Capabilities

Bluetooth Version

Sound Pressure Level

 
Best USB Microphone for Gaming, Streaming and Podcasts
You are looking for the best microphone for gaming and streaming, and podcasts make your sound professional and sound crystal clear, and effortless to operate.
Shure MV7 Podcast Microphone
If you want your voice to be crystal clear and sound the way it's meant to be heard, the MV7 is the first recommendation.
Specifications:
Brand: Shure

Connectivity Technology: USB, XLR

Connector: USB, XLR Connector

Compatible Devices: Headphone

Audio Sensitivity: 132 dB

Features: Integrated Touch Panel for Mic Controls
Here you should also consider these top speaker brands in India before choosing the right one. 
HyperX SoloCast
This is the best to put to the sword of new budget-oriented microphones with the best audio performance, prioritizing the sound over large-scale feature sets in a pocket-friendly price set.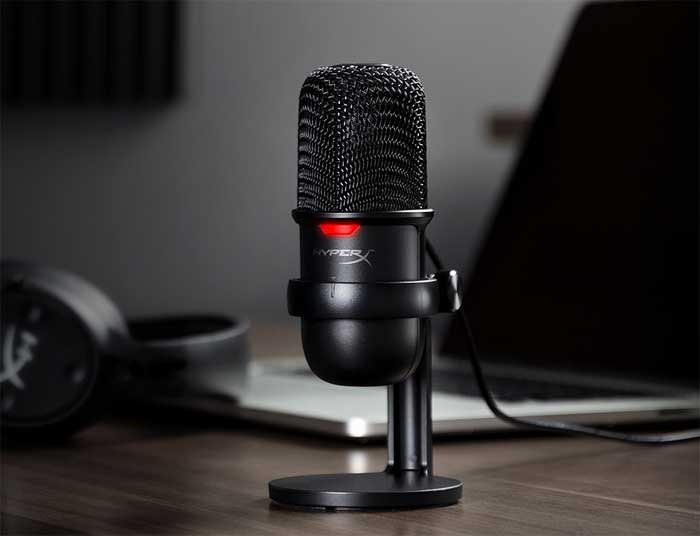 Specifications:
Polar patterns: Unidirectional Cardioid Polar Pattern;

Connectivity: USBRecording;

Sample Rate: 16-bit 48kHz;

Frequency response: 20–20,000Hz;

Features: Tap-to-mute sensor;
Rode NT-USB-Mini
It's the best microphone for entry-level steamers; if you want a tiny microphone, go for it.
Specifications:
Polar patterns: Cardioid;

Connectivity: USB;

Recording sample rate: 24-bit 48kHz;

Frequency response: 20–20,000Hz;

Features: Zero-latency monitoring, mute & headphone volume controls;
Usage of Portable Speaker with Microphone
In the modern world, many individuals now consider portable speakers and microphones to be essential. 
These speakers have a wide range of characteristics that make them suitable for a number of activities, including outdoor activities, music performances, and public speaking. 
In this post, we'll go over how portable speakers with microphones are used and why you would want to acquire one.
For public speaking occasions, portable speakers with microphones are ideal. A voice-amplifying device is necessary if you're making a speech or presentation so that everyone can hear you. 
Lightweight and portable, portable speakers with microphones are perfect for on-the-go activities. Also, they come with a variety of microphone choices, including portable, lapel, and headset. Here, You can check the Philips bluetooth speaker price list. The list will help to choose the speaker as per your requirement. 
Furthermore excellent for music performances, these speakers. A portable speaker with a microphone may enhance the energy and engagement of your performance, whether you perform alone or with a band. 
You may sing, address the crowd, or even make announcements while using the microphone. Also, many portable speakers have built-in sound effects like reverb or delay that may improve your sound and give it a more polished appearance.
Outdoor activities are another application for portable speakers with microphones. You may use a portable speaker to play music or announce events if you like camping, hiking, or other outdoor activities. 
Several portable speakers are water-resistant or waterproof, which makes them perfect for usage near water.
This LG lhb675 speaker is very much affordable and good for pary lovers. 
Why should you buy a portable speaker with a microphone?
Let's now discuss the benefits of purchasing a portable speaker with a microphone. It first provides flexibility and convenience. 
Without the need for elaborate installations or large equipment, you can carry your music system with you everywhere you go if you have a portable speaker. It serves a variety of functions, making it a flexible purchase.
Second, it is economical. A portable speaker with a microphone may be purchased for a lot less money than a professional sound system can be hired for your occasions. Also, it is a one-time investment that will pay out in the long run.
Finally, it is easy to use. Even if you are not computer savvy, most portable speakers with microphones have simple settings and clear interfaces, making them usable by everyone.
Conclusion
For music lovers, a portable speaker with a microphone will frequently give you a much more legitimate sound. The SPL handling level is extremely high; it does not suffer from proximity effects or damages. At any place and anytime, you can listen to music and stream in an effective way through the speaker.