Best Bluetooth Earphones Online
Bluetooth earphones are the choice of modern men due to its user-friendliness. They actually work on radio waves for transmitting and receiving the audio without the need for wire. 
With the coming of Bluetooth technology in earphones, people are mostly preferring Bluetooth earphones over the other types of earphones due to the convenience it gives when connected to the cell phones. 
It relieves you from the disturbance of tangled wires that one faces when an ordinary earphone is connected to a mobile or laptop. It makes listening to music or talking over the phone conveniently with both hands used for other works. 
Bluetooth earphones also can be connected to more than one device at the same time. You can freely move around your home or office while talking over the phone or listening to music, without the need for carrying it along with you. In fact, use of Bluetooth earphones makes your mobile more functional and convenient.
Important Features Of The Best Bluetooth Earphones
 For buying the best Bluetooth earphones you should take into consideration the various features.
It should have good sound quality. The sound should be clear enough to hear.

It should have features like noise cancellation ability to block the background noise.

The battery should work for longer hours.

The quality of the Bluetooth earphone should be superior.

Some Bluetooth earphones have a warranty period. You can look for such a type.

A sleek Bluetooth earphone when put to your ear enhances your personality. So, it is important to choose a stylish piece.

Check the quality of the neckband.

It should be enabled to connect to two devices at the same time.

It should be reliable and authentic.

It should be sweat-free.

It should have IPX ranking.
6 Best Bluetooth Earphones For Your Mobile
boat Rockerz 255 pro+ Bluetooth earphone

 
This premium headphone from boat looks classy and it comes in multiple colors like green, blue, black, maroon and purple. It comes with a warranty of one year from the date of purchase. The price of the earphone is Rs 1299.
Features.
It has very good quality audio.

It requires only ten minutes charging to have a battery backup of up to 40 hours.

It has a good IPX7 rating.

It gives better listening, with volume which can be increased or decreased and with buttons like play and stop.

It can be paired to two devices at the same time.

The magnetic cool earbuds fit well in the ears.

It is resistant to water and sweat.

It has amazing features like voice assistant to check weather, news and cricket updates.
Boult Audio zcharge Bluetooth earphones

 
This attractive Bluetooth earphone has good functionality. The price of this product is Rs 4999.
Features.
It enables  very first charging for only 10 minutes which gives 15 hours playback.

It has a background noise cancellation chip which filters only the voice.

It gives clear and good sound quality.

It has silicon neck band which is very comfortable to use for the whole day.

It has dual mics for best sound quality.

It is sweat resistant.

It has good IPX5 ranking.
pTron tangentDuo Bluetooth earphone

 
This stylish Bluetooth headphone will increase your personality when put on your ears. Buy it at price Rs 1899. It also has a warranty of 6 months.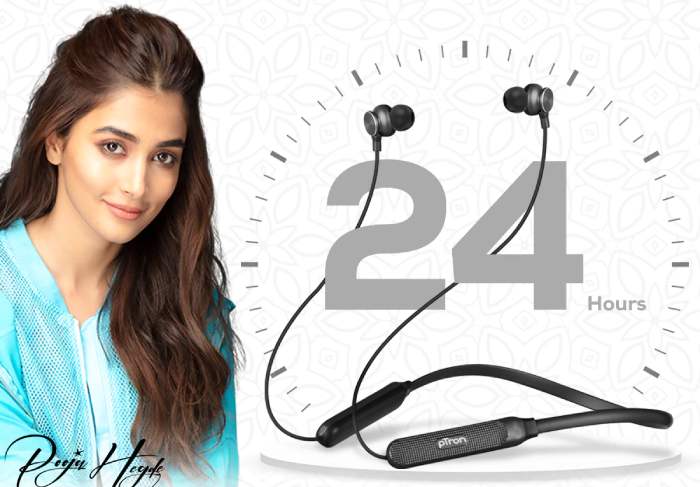 Features.
It has voice cancellation feature.

It has outstanding features like voice assistant support. 

It has excellent IPX4 rank.

It has an ergonomic design.

It is water and sweat resistant.

It is manufactured in India.

It also has two pair extra ear tips on its box.
Bell BLBHS 148 bluetooth earphones

 
The earphone comes in multiple colours. The price of the product is Rs 1799. It also has a six months manufacturer warranty.
Features.
It gives high quality sound.

It has a long ten-meter Bluetooth range.

The earbuds perfectly fit our ears.

It makes a very fast pairing.

It has an environmental noise cancellation feature.

It is sweat proof.

It is also protected from dust.

It gives 40 long hours of music playtime.

It has a dual mic for sound clarity.

It charges very fast and has a micro USB charging cable.

It has an auto reconnect feature.

The neck band is highly flexible, making it convenient to keep on the shoulder for long hours.
One Roar Denx 45 Bluetooth

 
The silver coloured Bluetooth earphone looks cool. It has a one-year warranty on the Bluetooth earphone and Its MRP is Rs 5999.
Features.
It has an LED light indicator for the battery.

It is sweat and waterproof.

It enables very fast charging.

The battery works for six hours in the buds and a very long time of 54 hours with the case.

It provides you low latency with better music experience.

The earbuds can be used in both mono mode and stereo mode.

It has an aluminum alloy with a 1000Ah charge case.

It has a voice assistant feature.

It cancels background noise during a phone call.
Sennheiser momentum MTW 3 Bluetooth earphones
This is a premium product which has a signature look with innumerable 5 star reviews for its crystal clear sound quality. Price of this premium product is Rs 24990.It is available in three attractive shades – graphite, black and white.
Features.
It has a super mic for music and phone calls.

It has long battery life 

It has an environmental noise cancellation feature, blocking the background sound.

It has IPX4 ranking.

It comes with ear adapter sets of size XS, S, M, L.

It gives brilliant sound quality.

It is sweat and waterproof.

It can pair two devices at once.
Conclusion – These are the 6 best Bluetooth earphones in India. They are selected on the basis of the various essential features needed for your convenience and for a longer lasting result. They have both elegances as well as utility which suits modern life. 
Consider Reading -