Best Diwali Gift Hamper Ideas 2023
Diwali, also known as Deepavali, is one of the most widely celebrated and adored festivals in India and among Indian populations throughout the world. It is a time when families gather, homes are lit up with oil lamps (diyas), and the air is filled with the perfume of delectable sweets and delights. 
During the holiday season, it is customary to exchange presents and hampers. It's a method to show colleagues, family members, and friends your love, thanks, and best wishes. We'll look at a number of Diwali hamper ideas in this article to assist you in making this Diwali a genuinely memorable and pleasant event.
Diwali Hamper Ideas for Employees
Sweets Galore (Traditional Touch)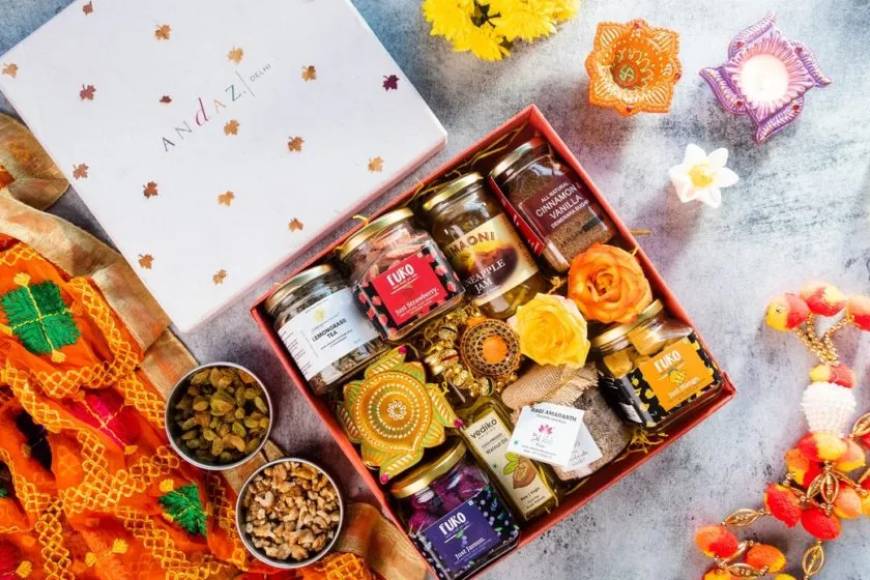 Diwali is synonymous with sweets. A traditional Diwali gift for your employees might include a variety of traditional Indian sweets such as laddoos, barfis, and namkeen. You may get sweets from well-known local sweet stores or make your own to add a personal touch. 
Consider attaching a meaningful thank-you message or a Diwali card to convey your gratitude for their time and effort.
Gift Cards (adaptable and Appreciated) 
If you want to give your employees something more adaptable and personalized, try giving them gift cards to their favorite restaurants, online businesses, or local shops. This allows them to select what they want, resulting in a meaningful and useful present that matches their interests.
Wellness Baskets (Nurturing Wellness)
Include scented candles, essential oils, herbal teas, and maybe even a yoga mat or meditation cushion in your Diwali gift to emphasize the wellness concept. Encourage your staff to unwind and rejuvenate throughout the holiday season, emphasizing the value of self-care.
Diwali Hamper Ideas for Family
Diwali Décor Kit (Festive Decorations)
Make a hamper full of products that will assist your family members in decorating their houses for Diwali. Diyas, rangoli stencils, ornate candles, colorful paper lanterns, and even tiny statues of deities might be included. Encourage children to enjoy the festive atmosphere by personalizing their surroundings.
Personalized presents (emotional Touch)
Consider putting personalized presents in your family's Diwali celebration to provide an emotional touch. These might include personalized photo frames, mugs, engraved cutlery, or even custom-printed family T-shirts. These presents serve as a reminder of your care and devotion.
Delicious Delights (Culinary Delights)
Create a hamper full with delicious foods for the foodies in your family. Chocolates, foreign nuts, unusual fruits, and premium spices are examples of such items. It's an excellent opportunity to spoil your family members with delectable delicacies that they might not buy for themselves on a regular basis.
Diwali Hamper Ideas for Friends
Snack Attack (Casual Celebrations)
Create a "Snack Attack" hamper for a fun and casual Diwali celebration with friends. Include a range of appetizers like chips, popcorn, and dips & salsas. Add some cool drinks and you're ready for a cozy Diwali movie night or a casual get-together.
Game Night Hamper (Entertainment Galore)
Make a game-themed hamper for pals who like to play board games, card games, or puzzles. Include classics such as Scrabble and Chess, as well as new board games that promote engagement and laughter. This hamper is ideal for long hours of fun and bonding.
Personalized Diwali Candles (Ambiance Creators)
Personalized Diwali candles add a distinctive and personal touch to your friends' Diwali festivities. These candles may be personalized with their names, favorite quotations, or a personal message. When lighted, these candles will not only add to the festive atmosphere, but will also serve as a reminder of your thoughtfulness.
Diwali Basket Ideas
Aromatic Delights (Sensory Experience)
Make a basket with scented candles, incense sticks, and essential oils. These scented treats improve the ambiance of any Diwali house and promote relaxation and focus. The calming smells may transfer you to a peaceful frame of mind, which is ideal for the festival of lights.
Art and Craft Basket (Creativity Unleashed)
For creative friends or family members, consider a "Art and Craft Basket." This package might include sketchbooks, coloring pencils, painting tools, and DIY craft kits. It's an ideal present for individuals who adore doing Diwali-themed art and crafts to personalize their festivities.
Organic and Eco-Friendly Hamper (Responsible Gifting)
As awareness of environmental issues rises, consider an "Organic and Eco-Friendly Hamper." Organic food, reusable bamboo cutlery, eco-friendly household products, and sustainable things such as cloth bags might be included in this hamper. It's a conscientious and ethical decision that accords with the beliefs of environmentally aware people.
Diwali Best Hamper Name 
"Diwali Delights Basket" (Classic and Festive)

: With its collection of delectable snacks and delicacies, this hamper captures the traditional atmosphere of Diwali. It's ideal for sharing joy throughout the celebration, with everything from sweets to decorative objects.

"Festive Glow Package" (Aromatic and Sensory)

: The "Festive Glow Package" provides a sensory experience with scented candles, essential oils, and other products that create a warm and inviting ambiance during the festival of lights.

"Custom Joy Creations" (Personal and Memorable)

: This hamper focuses on personalized presents and souvenirs. These things will make your loved ones feel particularly special during Diwali and will act as long-lasting mementos of your love and admiration.
Conclusion
Diwali is a time to celebrate the beauty of life, develop friendships, and show thanks. Whether you're looking for Diwali hamper ideas for workers, family, or friends, the attention and effort you put into picking the appropriate presents will be remembered. 
There are numerous alternatives for making this Diwali a unique and pleasant celebration, from traditional sweets to personalized keepsakes and eco-friendly options. Spread love and warmth during Diwali by giving these thoughtful hampers with your loved ones, and let the light of the holiday shine in everyone's heart. Make Diwali a time of pleasure and unity by celebrating the spirit of Diwali.