Juice Up Your Life: A Comprehensive Guide to Fruit Juicers
A fruit juicer is the ideal thing to have in your kitchen if you want to increase the amount of fruits in your diet or just enjoy a cool beverage. These devices are made especially to squeeze the juice out of a variety of fruits, including oranges, apple, pomegranates, and more. 
In addition to speeding up and simplifying the process of juicing, they also maintain the fruits' original flavour and nutritional value, ensuring that every drink provides the most possible health advantages.
The advantages of fruit juicers:
Fruit juicers are an absolute need in every healthy kitchen due to their wealth of advantages. Only a few of the causes to think about buying a fruit juicer are as follows:
Convenience

: Thanks to fruit juicers, extracting has become a

hassle-free process

. Fruits no longer require hours of peeling and slicing. You only need to put the fruits in the juicer, and you'll have a glass of delectable and healthy juice in a matter of seconds.

Nutrient-rich

:

Fruit juices are loaded with nutrients, including vital minerals and vitamins that support excellent health.





Despite

store-bought juices

that could have additional sugars and preservatives, juice made at home using a fruit juicer is guaranteed to be fresh and to have all of its nutritional val

Delicious

: Fruit juicers produce delicious juice by extracting the natural tastes of the fruits, making it ideal for drinking on a warm summer day or as a nutritious breakfast alternative.
If you want to choose the best fruit juicer for your kitchen under budget, just compare the Sujata mixer price with Maharaja juicer mixer grinder. Both are very well-known for juicers in India. 
Fruit Juicer Types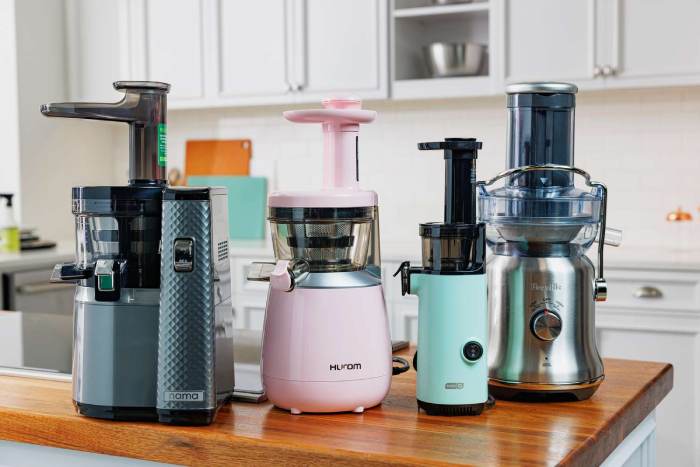 Fruit juicers come in two varieties

: centrifugal and masticating. Masticating juicers employ a slower process of crushing and grinding than centrifugal juicers do to extract the juice from fruits.





All varieties offer benefits, so it's crucial to pick the one that best matches your requirements and tastes.

For individuals who need to juice quickly and easily but are short on time,

centrifugal juicers

are the best option.





In addition, they cost less than masticating juicers. These might not be the ideal choice, though, for juicing wheatgrass or leafy greens.

On the other hand,

masticating juicers

are ideal for juicing various kinds of fruits and veggies, including wheatgrass and leafy greens. They work at a slower pace, which helps the juice retain more nutrients and enzymes. However they often cost more than centrifugal juicers.
Apart from that, Exhaust fan is compulsory for every kitchen. If you don't know what size of exhaust fan is perfect for the kitchen then here you should follow this exhaust fan size chart.
Tips for using a Fruit Juicer
The

nutritious value

of fruits may be obtained in a tasty drink by using a fruit juicer. Yet, it might not always be simple to use a juicer. The following advice will help you maximise your use of any fruit juicer:

The

correct fruits

should be chosen due to the fact that not every fruits are good for juicing.





Although

soft fruits

such bananas and peaches are better enjoyed as smoothies, solid fruits like apples and pears may be simply juiced. The seeds of fresh fruits like oranges and grapefruits should be removed before juicing.



Wash your fruits completely

: To get rid of any debris or pesticides before juicing, wash your fruits well. It's crucial to remove any labels or stickers that may be present on the fruits.

Reduce the size of your fruit

: To make juicing simpler,

reduce the size of your fruit

so that it can fit down the juicer's feeding chute. Moreover, it will aid in fruit juice extraction.

Rotate between soft and hard fruits

: It is advisable to rotate among hard and soft fruits while juicing a variety of fruits. This will enable a better juice extraction procedure and prevent the juicer from clogging.

After using your juicer to

extract the juice from your fruits

, it is crucial to clean it right away to avoid any residue from accumulating. Clean the components of your juicer with warm, soapy water, and let them completely dry before reassembling them.

Try out various fruit mixtures

: Juicing is a terrific method to combine various fruit tastes. To produce distinctive and reviving juice flavours, experiment with mixing various fruits.

Juice should be consumed right away. Many nutrients found in

freshly juiced fruits

may start to deteriorate with time. For the greatest nutritional value out of your juice, it is preferable to drink it right away after juicing.

Finally,

juicing fruit

may be a fun and nutritious method to include more fruits in your diet. 
You can make the most of your fruit juicer and take advantage of delectable, healthy fruit juices whenever you want by paying attention to these guidelines.
To keep the juice fresh use the prefect refrigerator. You can also choose from these Mini refrigerator prices below 3000 only. 
Top Fruit Juicers in The Market
We have produced a compilation of the top fruit juicers available today, together with a thorough explanation of each one, to assist you in making an informed choice.
For those looking for a strong appliance that can swiftly juice fruits and vegetables, the

Breville JE98XL Juice Fountain Plus

is a good pick.




Even the roughest produce can be handled by the Breville JE98XL Juice Fountain Plus because to its

strong 850-watt motor

and two speed settings.





Also, it features a large chute that can fit whole fruits and veggies, saving you the time it would take to cut them up.

The

Omega J8006HDS Nutrition Center Juicer

is the ideal masticating juicer for anybody looking to extract the most amount of nutrients from their vegetables.





Juice is extracted using the Omega J8006HDS slowly and

cold-pressed

, which preserves enzymes and other essential elements.





Also, it boasts a

two-stage juicing mechanism

that guarantees maximum production and generates very little heat, helping to preserve the juice's quality.

The

Hurom H-AA Slow Juicer

is the best option for anybody looking for a productive, quiet appliance that can handle a variety of fruit.




The Hurom H-AA juicer slowly

smashes fruits and vegetables

using an auger-style technology, producing more juice with less pulp. Moreover, a built-in strainer is included

The

Cuisinart CCJ-500 Pulp Control Citrus Juicer

is a fantastic option if you like to just juice citrus fruits.




This electric citrus juicer has a

pulp control mechanism

that lets you alter the quantity of pulp in your juice as well as an adjustable mandrel that can handle both tiny and large citrus fruits.





Moreover, it boasts a leak pour spout to assist avoid spills.

The manual

BLACK DECKER 32oz Citrus Juicer

is a cost-effective choice that nevertheless produces top-notch juice. 
With its two different-sized cones, the BLACK+DECKER 32oz Citrus Juicer can handle both tiny and large citrus fruits. It also has a pulp control option that lets you adjust the juice to your preferences. It includes a pour spout as well.
Consider Reading:-