Pull Some Strings of These Best Guitars in India!
We all know some of the best guitar brands in India. So you only choose from these branded guitars if you wish to buy one of the electric or acoustic guitars. These companies have been there in the market, and for a good reason, they produce quality musical instruments, especially guitars.        
Every guitar brand has its specifications. The best guitar brands have a good legacy, popularity, and goodwill. You can also check the official websites of each brand of these guitars mentioned to know more about each brand. Are you looking for some of the trusted guitar brands in India?
Best guitar brands in India         
Go through the list of brands below to learn more about the guitars.
Gibson guitar remains at the top of the list of the best guitars. It has gripped tightly onto the musical world for ages. The Gibson or the Gibson Les Paul is made in the U.S.A. It also has many variations.
Gibson has remained constant with its styles and designs. It is the same in this quality as the Fender guitar.
Gibson guitars are known for their remarkable toe and craftsmanship. The best Gibson 
guitar models are Les Paul, SG, Flying V, Explorer, ES-335, Hummingbird, J-43, and J-50. SJ-200.
Fender guitars are also popular among the guitar popular. It is one of the recognized models. Models like Stratocaster and telecasters are known a lot. The USA-manufactured instruments have shaped music life for more than 60 years.
Fender guitars have changed in a better way over the years. These are the Made in Mexico fenders. Like the U.S.A. fenders, you can choose between the different fingerboards from many colour variations.
You should also check the original American series of these brands of guitars. They are pro guitars with premium features that take us back to the legendary music of the past.
Fender manages to create classical and cut-edge guitars at the same time. Some cutting-edge Fender Guitars are Stratocaster, Telecaster, Jazzmaster, Jaguar, and Mustang.
Hertz guitar is also the primal one in our country's list of top guitar brands. It also guarantees a high-quality experience of guitar playing.
You may find it a little difficult to adjust to the guitar's chords and size in the beginning, but with continued practice, you will soon master it.
It contains many useful elements that make your guitar-playing experience good. According to some guitar experts, it is the most practical instrument.
It has an elegant, handy, and sophisticated design. It is a lightweight 6-string guitar that is portable.
The Juarez Guitar is one of the top-selling guitars on amazon. It has a reasonable price for beginners. You get a 10 % cashback offer on every purchase on Amazon.
There are 18 different types of Juarez acoustic guitars. It has high space between them, so you easily play the high notes. These strings do not let you mingle your fingers in between.
Its fingerboard is made of ebony wood and linden wood. The otherwise remaining body of the guitar is constructed of linen wood. It is one of the best materials.
Its bridge is made up of plastic. It gives you an excellent lifting process, and you can adjust quickly to the weight of its strings. The body shapes of this guitar are cut away. 
You can easily reach its finger notes. It is 38 inches. So it is suitable for everyone. It has many nylon strings. So you can play classical music with ease. Beginners can practice hours on these soft nylon strings.
If you are a beginner and want to try guitar playing, this one is the best option. Its strings are soft. You can play the bar chords and open chords at a low price.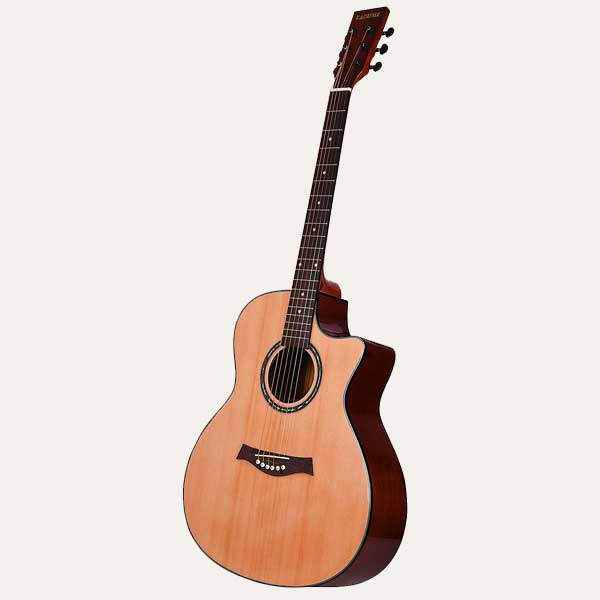 Kadence is an attractive acoustic guitar; you can purchase it in zebra or ash wood. All players love the Rosewood Bridge model, which is highly hard and produces a good vibration. It also has good quality strings and a truss rod in it. Its neck is also adjustable.
It has a deep pore matte finish and a streamlined curvature. It comes in a 40-inch size and is conductive and stable. For almost 14 years, it has been quite suitable for guitarists all over. It is specially designed for beginners, students, and adults too.
The Kadence Guitar has a golden cutaway corner design.You can position it well and play it. Its surface is coated with a film coating, so it does not rust quickly. The burden is reduced while playing the strings.
In a Kadence guitar, there is an 18.1 premium machine head. It runs smoothly without any slack. You can also adjust the pitch accurately. It does not include any batteries too.
Yamaha produces acoustic, electric, steel, and nylon guitar string. Yamaha guitars have ruled the musical melody for 50 years now.
They have successfully developed acoustic guitars. They bring innovation with every model they launch that is good for many players.
They have an impressive range of other musical instruments, from steel string flat to nylon string classical guitars to stage-ready acoustic ones.
It has recently launched guitars with A.R.R. or Acoustic Resonance Enhancement.  Yamaha guitars offer something new for everyone.
The Yamaha CSF3M is a travel-friendly guitar with excellent playability and quality, irrespective of its size. It is composed of mahogany wood on its back and sides and has a rich tone.
The Yamaha A5R A.R.E. is also an excellent guitar with electro technology for the stage with its SRT2 preamp system with played-in feels and a vintage look. The model is made in Japan.
It is a resonant guitar with a high tonality and warmth. It has hand-rolled fretboard edges and gives you a smooth experience while playing it.
Its SRT2 system offers simulated mic sources; you can mix and balance these as you like. It has a good condenser and ribbon mic options that shine in different applications and have a hood sound.
The Yamaha CG-TA TransAcoustic Classical Guitar is no less. It uses trans-acoustic technology, which is hands down its best feature. The CG-TA is good for the players as a beginning instrument to learn the basics. It is a steel instrument.
Coming to the next model of Yamaha guitar, the SLG200S Silent Guitar looks different. It is one of the best silent guitars ever. It sounds incredible and is even travel-friendly. You can plug in your headphones and play it late at night. 
This is the best option for you if you want to play silently without causing any disturbance. It doesn't produce a massive acoustic volume unless you want to plug it in. with this, you get the added reverb, chorus effects, tuner, and E.Q. It also has some modern opposed as opposed to the traditional guitar looks.
The Zabel Guitar 40 inches Matte Finish comes in blue and has a back material type of wood and rosewood. It has a fretboard material type of rosewood. Its string materials of steel and has a right-hand orientation. It has a scaellenth of 38 inches and has a truss rod for guitar action adjustment. 
It has a matte finish and a cut-way design for better reach to higher notes. Zabel guitar ZBT08 Linden wood brown has 6 strings and 20 frets. It is made of linden wood.
The strings are made of steel. It has no hand orientation and a width of 47 cm. It is lengthed at 100 cm and thickness is 17 cm. it weighs around 2 kg.
The Zabel Guitar ZBL-ETR-NAT-C linden wood maple right had oriented guitar is of natural color. It has six strings in total.
It is lengthened at 38 inches and has plastic bridge material. Its fretboard is made of plastic wood and has 18 frets. It comes with a truss rod for better guitar action adjustment and a bad strap and picks.
What are guitar chords?
A Guitar chord is a set of notes you play on a guitar. Noes of the chords are mostly played simultaneously. The implementation of guitar chords depends n on the tuning of the particular guitar. Most of the guitars have six strings and standard tuning. The tuning goes from the lowest pitched string to the highest, E-A-D-D-B-E.
There are spate chords with their root note on the third, fourth, fifth, and sixth strings. The fretboard layout in standard tuning decided the tonal order for the guitarists. Open tunings allow one-finger chords which employ equal temperament.
When buying a guitar that suits you the best, keep these things in mind
Particularly if you're a novice, purchasing a guitar may be a thrilling yet intimidating affair. Given the wide range of alternatives on the market, it's critical to pick a guitar that both suits your demands and your budget. W we'll provide you with some advice on how to choose a guitar that meets your demands.
Establish Your Budget: It's important to establish your budget before you begin shopping for a guitar. 
As the price of a guitar can vary between a few hundreds to a few thousand rupees, it's critical to know how much you can afford to spend. 
A solid beginning or intermediate guitar may be purchased for Rs.8500, and there are numerous excellent models in this price range.
Select the Kind of Guitar: Acoustic and electric guitars are the two primary varieties. Electric guitars employ pickups and an amplifier to enhance sound, whereas acoustic basses have a hollow body and create music through its soundhole. 
An acoustic guitar can be the ideal option if you're a novice or searching for a guitar to perform at house or in small gatherings. 
An electric guitar, on the other hand, would be a better choice if you're keen on playing rock, metal, or other genres that call for distortion and effects.
Think on the Body Type: There are several distinct body styles for guitars, including concert, jumbo, dreadnought, and more. The tone, playability, and comfort of the guitar are influenced by the body style. 
Choose a smaller body style like a performance or parlour guitar if you have a tiny frame or want a guitar that is simple to play. 
A battleship or jumbo guitar, on the other hand, would be the best option if you want a guitar with a richer tone and greater volume.
Check the Build Quality: A guitar's construction has an impact on its playability, durability, and tone. To get a guitar with a fuller, more resonant tone, look for solid wood rather than laminated wood. 
Look for any obvious flaws, such as fractures, warps, or jagged edges. Also, check that the frets are polished and properly positioned on the neck for a pleasant playing experience.
Play Test the Guitar: When you've made a shortlist of options, play test the instruments before deciding. To obtain a sense of the guitar's tone, playability, and comfort, try out a few chords and scales. 
Choose a guitar that is cosy to handle, easy to play, and delivers a tone you enjoy. Moreover, pay attention for any buzzing or dead notes, since these might point to a problem with the guitar's setup.
In conclusion, if you use these suggestions, finding a guitar that satisfies your demands and is within your price range should be simple. 
When making a selection, keep in mind to verify the construction quality, play-test the guitar, and select the kind and body shape that best fit your playing style and comfort.
If you want to play guitar and don't know which guitar is best for beginners. Then here we have mentioned some of the best guitars for all age groups. 
Guitar Price List in India
| | |
| --- | --- |
| Square Wave Inverter Microtek guitar | INR 3,290 |
| Yamaha FS80C Guitar | INR 7,981 |
| Jaurez JRZ 38 C Acoustic Guitar | INR 3,000 |
Conclusion

    
To sum up, these were some of the best guitar brands in India. You can learn to play on them as a briner and even as an expert; they have innovative and distinct features. So study and try them out and enjoy your musical experience!