AC on rent? Consider these things while renting an A.C
Air conditioning is an essential component of modern life, providing much-needed relief from the scorching heat and humidity in many parts of the world.
A well-functioning AC can make a significant difference in creating a comfortable living or working environment and improving overall health and productivity.
However, buying an AC can be a substantial expenditure that not everyone can afford. For people who need an AC temporarily or do not want to pay the up-front expense of owning one, renting an AC may be a good choice.
In this essay, we'll go over crucial points to remember while renting an air conditioner. Have a look at the top 10 air conditioner brands in india to choose from for rent.
Considerations Before Renting an AC
The following things must be taken into consideration while hiring an air conditioner:
Size of the room

:

The size of the room is a crucial factor in determining the appropriate size of the AC. An AC that is too small for a room will struggle to cool the space, while an oversized AC will lead to energy wastage and higher electricity bills. It is crucial to measure the dimensions of the room and choose an AC with the appropriate BTU (British Thermal Units) for the size of the room.

Type of AC

: Split ACs and window ACs are the two types of air conditioner in india that can be rented. Window air conditioners work well in smaller spaces while split air conditioners are best for bigger rooms. Split air conditioners need professional installation, however window air conditioners may be installed on your own.

Energy Efficiency

:

Long-term financial savings can be achieved by using an energy-efficient AC

.

Look for ACs with higher EER (Energy Efficiency Ratio) ratings, as they consume less electricity and are more efficient.

Noise Level

:

A silent AC is vital if you intend to use it in a bedroom or a peaceful workstation because air conditioners can be noisy.

Maintenance and cleaning requirements

:

Regular maintenance and cleaning of ACs are essential to ensure they function optimally and have a longer lifespan. Check the manufacturer's guidelines for maintenance and cleaning requirements before renting an AC.

Installation Process

:

The installation process can vary depending on the type of AC. It is crucial to hire a professional to install the AC correctly to avoid any safety hazards and ensure optimal functioning.

Cost and duration of the rental agreement

: The rental cost and duration of the rental agreement should be considered before renting an AC. It is essential to compare the rental cost with the purchase cost to determine which option is more cost-effective in the long run.

Also, consider the duration of the rental agreement and the flexibility to extend or terminate the contract.
Have a look at the top ac under 30000 if you want to buy an ac today.
Who might benefit from renting an air conditioner?
There are various reasons why someone may choose to rent an air conditioner.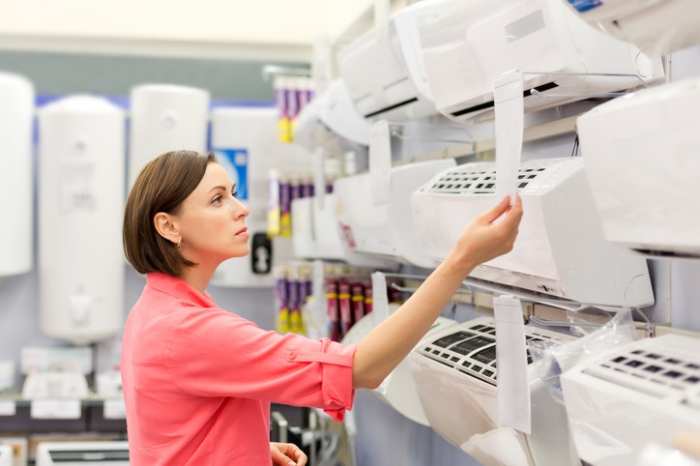 If you fall into any of the categories below, then renting an AC may be the most suitable option for you:
Limited Finances

– Buying an air conditioner requires a significant upfront investment. Renting an AC can be a cost-effective alternative, as the initial cost will be lower. The rental price will depend on the duration of the lease and the AC's cooling capacity, but it will likely be less than what an AC owner would pay.

Temporary Cooling Needs – Renting an AC for the summer months is an excellent option, as many rental services offer seasonal rentals. Renting an AC a month before summer can also result in a cheaper rental rate. If you require the AC for an extended period, ask the rental service for a discount.
Rented Accommodation

– If you move into an unfurnished or semi-furnished rental property, you may not have access to an air conditioner. Renting an AC can provide comfort and help save on monthly rental costs. However, make sure to seek permission from your landlord before installing the rented AC.
Consider reading about solar air conditioners here.
Tips to keep in mind while renting the ac
Here are some tips to keep in mind when renting an air conditioner:
Only rent from well-known and trusted dealers.

Test the AC's functionality before having it installed.

Avoid renting an AC that is more than a year old.

Inquire about warranty options with the owner.

Discuss maintenance concerns with the owner before renting.

Look for an AC with a high rating and energy-saving features.

Measure your room to ensure you rent the right size of AC.

Ask the owner to provide the best stabilizer for your AC.

If you're not satisfied with a particular brand, try a different one if you're renting for a short duration.

Discuss installation costs with the owner.

Choose a room that doesn't require additional sealing to install the AC. Renting an AC is a cost-effective way to stay cool and save money, making it an excellent choice for students or those living in rented apartments.
You may also consider reading about top bldc ceiling fan in india to choose from.
Best A.C Brands for Rent
Daikin

LG

Mitsubishi Electric

Panasonic

Carrier
Cities Where you can get AC on Rent Easily:
Delhi
Mumbai
Gurgaon
Noida
Pune
Lucknow
Faridabad
Bangalore
Also read: Mini Refrigerator Price Below 3000
It is important to note that while these brands are well-regarded for their quality and performance, the availability of rental options and specific rental policies may vary by location and service provider.
Conclusion
In conclusion, renting an AC can be a great option for those who need a temporary cooling solution or do not want to incur the upfront cost of purchasing an AC.
However, before renting an AC, it is essential to consider several factors, including the size of the room, type of AC, energy efficiency, noise level, maintenance and cleaning requirements, installation process, and cost and duration of the rental agreement.
When considering the size of the room, it is important to choose an AC with the appropriate BTU for the space.
Consider Reading:
The type of AC, whether window or split, should also be chosen based on the size and needs of the room. Energy efficiency and noise level are also important factors to consider, along with the maintenance and cleaning requirements and installation process.
For individuals who require temporary cooling solutions or do not want to make the investment in buying an AC, renting an air conditioner might be advantageous.
It is a reasonable choice that enables people to use an AC without having to pay a high initial fee. Since people can prolong or terminate rental agreements as needed, renting an AC may also be more flexible than buying one.