Prestige Vs Preethi Gas Stoves. A Comparison
Gas stove burners have long been an essential component of every Indian kitchen. These dependable household items, especially for the kitchen are used to cook or heat everything. 
However, several kitchen and household appliance manufacturers now manufacture gas stoves in a variety of sizes and burner configurations. Utilising a gas stove is simple, so if you're seeking for the best gas stove brands to fit your kitchen needs, this blog is here to assist. 
This blog will help you figure out which is the better brand Prestige and Preethi as these two brands are currently all in the rage in the market. But, of course, you will have your own choice and decision to make you can do so, once, you read this blog. 
Prestige Gas Stove 
Who in India hasn't heard of the Prestige brand and about its kitchen appliances? Almost everyone has! Prestige gas stove has been regarded as one of the leading and best gas stove companies in India since its inception in 1955, and it is a formidable opponent to all of its gas stove-generating rivals. 
It comes as no surprise that Prestige makes gas stoves with up to four sturdy burners in order to make your living simpler. Each of Prestige's stoves is designed to complement the look of your kitchen while also saving your kitchen counter space. 
They use shatter and scratch-resistant tempered, and glossy toughened glass technology. But, if you do not glass top gas stoves, you can get simple stainless-steel ones as well which are rustproof and can be maintained to last at least ten years. 
Cleaning any Prestige gas stove surface is also a breeze, as a single wipe yields a pristine stove. All of Prestige gas stoves come with ergonomic knobs, tri-pin burners with drip trays, rounded edges, and good sturdy stands. 
Preethi Gas Stove 
Preethi gas stove is not widely known, although it is India's finest company. Preethi provides a variety of gas stoves made of stainless steel material or with a tempered and toughened glass surface top. 
Thus, you can choose whichever kind of gas stove you want to place in your kitchen. When compared to other rivaling gas stove brands, Preethi gas stoves have a higher thermal efficiency, which means you get an improved and even heat distribution. 
With the use of its knobs, you can also effortlessly control the fire flame and adjust the heat level when cooking any food item.
There is no doubt that I f you want a sturdy gas stove that will end up lasting you more than a decade, Preethi is the one to get!
Prestige Vs Preethi- The Better Choice?

 
When the context of awards and accolades come into scene, Prestige takes away the prize. In comparison to Preethi, Prestige has got a few more awards and certificates for its gas stoves. 
Also, on a global platform, Prestige is considered better than most gas stove companies for a number of reasons. Prestige is very popular that it is even used in abroad countries quite easily. 
On the other hand, Preethi, although not very renowned on a global basis is a growing gas stove brand name. Because of the number of benefits, it is providing by using high technology, you can rest assured that Preethi products are amazing. 
If you want to go for a gas stove backed by brand name, then, you can go for Prestige. 
Similarly, if you want the best 4 burner gas stoves with a toughened glass top, then, Prestige also is the best. If you want the best burners on a gas stove that promotes even heat distribution, then, Preethi is a bit better than Prestige. 
Also, if you want good gas stoves at an affordable cost, then, the Preethi brand is better recommended as most Prestige gas stoves are pretty expensive.  
The Most Widely Used Gas Stove Of Prestige And Preethi
For a deeper understanding of the two brands, so as to find out more differences between them – Prestige vs Preethi, we have provided you with the most widely sold latest model from Preethi and Prestige. Have a look at their various essential features and be confident enough to select the suitable gas stove brand as per your requirement.
Preethi stainless steel Jumbo Max 4 burner gas stove
Features. 
Produces even distribution of heat.

It has very thick toughened glass which is 8mm.

It gives

69 % thermal efficiency

.

It has four heavy duty brass burners.

It has removable drip trays for easy cleaning of the stove.

It has adjustable legs that can be extended for cleaning below the

gas surface

.

It has a lighter holder in the side to prevent misplacing your lighter.

It has specially designed knobs that are coated with high quality molykote grease with night glow feature, helpful to spot it even at darkness.

It has a special ant guard jet which is designed to prevent the ants' entry for smooth performance.

It has 5 years of warranty on

glass and burners

and two years on the product.

One attractive feature of this gas stove is that it offers lifelong gas servicing from the company with free labour charges.

It produces

perfect blue flames

for better experience in cooking.

An amazing feature of Preethi Jumbo Max is its cute baby burner, which is very small and is used for reheating very small quantities of food with less gas.

It has a

revolving nozzle

in the side of your gas stove.

The distance between the burners is 7.5 inches which is very good.

MRP of the product is 12875.
Prestige SvachhGtSV-04 glass top gas stove
Features.
The most striking feature is its liftable burners

that allow easy cleaning of the glass top.

It has 8mm thick toughened scott glass made of German technology, which is highly durable 

It has a

gas table design

, making it aesthetically appealing.

The brass burners are extremely durable.

It has

rubber pads

at the bottom of the burners to protect the glass.

The knobs' quality is very good, ensuring firm gripping and long lasting.

It has a 5 years warranty on glass.

It gives

sturdy pan support

.

The space between the burners is 6 inches.

The nozzle can be connected from the back.

Buy it at MRP Rs.15545.
How to keep a glass top looking new
A kitchen would not be complete without a petrol stove. They are trustworthy, effective, and simple to use. Gas stoves do, however, need routine servicing to keep them operating properly and safely, just like any other equipment. You can preserve the durability and effectiveness of your petrol cooker by following these maintenance recommendations.
Regularly clean the burners
The burners of a gas stove are the most frequently utilized component, and they frequently accumulate dirt, grease, and food scraps. 
To clean the burners and get rid of any dirt, you may utilize a soft brush or a toothbrush. If the burners are extremely grimy, you may take them out and give them a few minutes to soak in hot, soapy water before cleaning them.
Inspect for blockages in the burners
Sometimes dirt, spider webs, or food residue can jam the burners of gas stoves. The flame may burn unevenly or go out entirely due to clogged burners. 
Remove the hob to inspect for blockages, and then clean the holes in the hob with a toothpick or a fine wire. Do not abuse the hob; be kind.
Look into the petrol supply
An issue with the gas supply might be the cause of your gas stove's improper lighting or faint flames. Make sure the petrol valve is switched on and checked. 
Turn off the gas valve right away and get a professional to handle the issue if you think there could be a leak of gas.
Clean the drip pans and grates
A petrol stove's drip pans and grates also tend to accumulate a lot of grease and debris.

Remove the drip pans and grates to clean them, then immerse the items in hot, soapy water. Use a gentle brush or sponge to scrub them, then thoroughly rinse them with water.
The component of the cooker that generates the spark needed to fire the gas is the igniter. The cooker may not even light if the igniter is malfunctioning. 
Remove the hob and switch on the gas to check the igniter. A little blue flame should appear if the igniter is making a spark. Instead, the igniter might need to
Regular maintenance is also necessary for your petrol stove's oven. Regularly clean the oven with a baking soda and water solution. Avoid using abrasive sponges or strong chemicals that might scratch the oven's surface.
Make sure the pilot light on your petrol stove is burning correctly if it has one. The cooker may not perform properly if the pilot light is dim or flickering. The pilot light may need to be replaced if it is not burning correctly.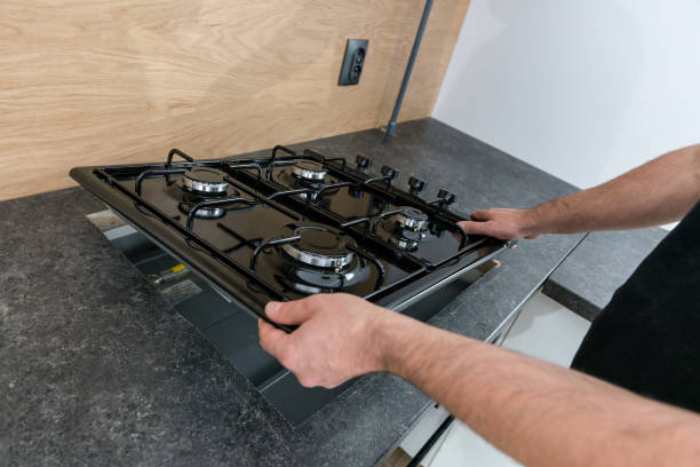 In conclusion, routine maintenance is necessary to guarantee the longevity, effectiveness, and safety of your petrol stove. 
You can maintain your petrol cooker operating efficiently and prevent future expensive repairs by following these basic maintenance guidelines. Always remember to switch off the petrol valve before doing any repair and to adhere to the manufacturer's recommendations.
Here you can also compare these Glen Vs Elica Vs Faber Gas stoves.
Conclusion 
To successfully purchase a gas stove, you must first analyze and note down your demands. When you do this, choosing a gas stove brand also becomes easier. If you want to buy only from the best gas stove brand in India, then, you must go for either Prestige or Preethi to fulfill your gas stove demands. Choosing any of the two companies- Prestige and Preethi listed below ensures that you will not be disappointed with your purchase.
Consider Reading:-