Singer or Usha Sewing Machine- A Detailed Comparison
Singer and Usha are one of the best sewing machine-producing companies in India. They have been each other's competition in every sense and are currently ruling the Indian market. With premium quality products and a wide variety of ranges that they come in, we will be taking a look into both of their products.
In this article, we take a look into the wide variety of sewing machines produced by both these giants and look for the best one.
Singer is the world's number-one sewing brand. It was established in 1851 by Sir Isaac Merritt Singer and has been in the market for the last 170 years. The company found its ground in India in 1871 and became a part of India's history. Singer mostly deals in kitchen and home accessories with sewing machines as its number one product.
Usha has a long history of good market performance with its premium home appliances. Usha has been consistently providing its customer with the best and its products have been performing well consistently across the market grid.  
Usha has become a common household name in India with its premium quality, easy-to-use home appliances giving their customers ultimate satisfaction. Usha is currently the number-one sewing machine-selling company in India.
Types of Sewing Machines produced by Singer
Singer designs four types of Sewing machines – Industrial machines,  Automatic Sewing machines, Artisan machines, straight stitch machines and sewing machine accessories.
Types of Sewing machines produced by Usha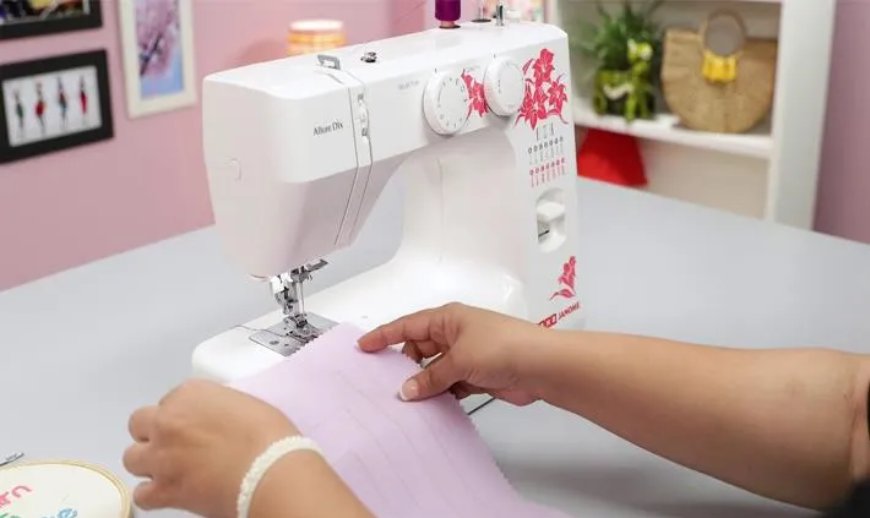 Usha produces the following types of sewing machines – Memory craft sewing machines, Zig Zag Usha Janome sewing machine, Industrial machines and Straight stitches.
Now that we know the types of machines produced by both companies, let's dig deeper into their machines and find their best qualities.
Beginner-friendly Sewing Machines
Both Usha and Singer have some of the most over-the-top advanced machines that can be used for professional as well as mass production work. But sewing starts at home and it always has. Therefore both these companies have beginner-friendly sewing machines that are practical, compact and easy to use. 
For Singer we have – The Singer Start 1304 which is an easy-to-use machine with simple features like six built-in stitches, 19 built-in stitch functions, a four-step buttonholer and an extra high-presser foot lifter. 
For Usha, we have the number one best-selling Janome ZigZag Dream Stitch. Janome is currently the most sold product and has attractive features such as 7 built-in stitches & 14 Stitch functions including 4-step button holing.  
You may also like to read – Best sewing machine for home use in India
Price Range
If we compare the price range, both the company has products starting from around Rs.10,000 and going up to Rs.50,000.
Industrial Sewing Machines

 
Both companies have dabbled into making heavy-duty industrial sewing machines with a wide range and variety of features installed. 
Singer produces heavy-weight industrial machines that can be used for production purposes and has adjustable sewing speed.
One of the basic models produced by Singer is  – 9900/9900H Single needle Lock stitch/ Single needle heavy duty lockstitch.
It comes with adjustable sewing speed and can be used on heavy-duty fabrics like denim, leather, knits and woven. It comes in two weight categories Light to medium weight (9900) and heavyweight (9900 H). 
Usha on the other hand has heavy-duty industrial machines that come in various speed ranges. Usha machines are capable of working on any type of fabric, from light to heavy-weight materials with ease. 
One of the best industrial models produced by Usha is the Direct drive single needle lock stitch S2. The S2 has an environment-friendly power-efficient motor with copper winding. The S2 has a max speed of 5000 spm and a stitch length of 5mm. It also has safety features such as a motor pulley cover, finger guard and take-up lever guard. 
Price Range 
The price range for industrial machines from Singer starts above 20,000 Rupees and ends at around 45,000 Rupees. 
For Usha, the price range starts from 10,000 Rupees and ends at around 45,000 Rupees.
Straight Stich Machines by Singer and Usha
Straight stitch machines are traditional sewing machines that we grew up around. These machines have been a part of our memories as we watched our grandmothers and mothers work on these black, sleek silai machines. 
The best traditional model by Singer is Singer Majestic. Singer Majestic comes with a round arm body and features four stitches with different options to create wonderful designs.
Usha Produces Economical Straight-Stitch Sewing Machines
One of the best traditional machines by Usha is the Anand Composite hand sewing machine. It is ISI-marked and comes with features such as an Auto tripping bobbin winder and Lever type stitch regulator with a forward and reverse stitching mechanism.
Price Range
The price range for traditional straight stitch machines falls under affordable rates.
For Singer, the range starts from Rs. 5000 and goes up to 10,000 Rupees.
Usha also provides the same range for its straight stitch machines.
Computerized Sewing Machines
Both companies also provide computerized sewing machines which is quite similar with electric sewing machines and additional accessories to make your sewing experience smoother and better. For a more in-depth study of each brand, you can check out our articles related to Usha and Singer sewing machines.
Conclusion
We tried to bring to you the best information regarding the most common sewing machines produced by two absolute giants in the market. Both Singer and Usha provide us with some of the best sewing machines at affordable rates. 
They cater to the needs of an absolute beginner to a full-time professional as well as factories indulged in mass-producing clothes and accessories. This article provided you with knowledge of the best the companies have to offer in terms of sewing machines and I hope it helped you gain more insight. 
Frequently Asked Questions
Are there specific Singer sewing machine models known for quilting and embroidery?
Answer: Yes, Singer makes sewing machines exclusively for quilting and embroidery. They provide a variety of computerised sewing machines with several stitch choices and embroidery capabilities. 
Large embroidery hoops, pre-programmed embroidered designs, and the option to import bespoke designs are common features of these machines. 
To enhance the quilting experience, Singer's quilting machines frequently include features like as enlarged workspaces, customizable speed settings, and a wide choice of quilting-specific stitch possibilities.
What unique features do Usha's electric sewing machines offer for advanced users and professionals?
Answer: Usha electric sewing machines are noted for their extensive features that cater to the demands of experienced users and experts. Among these capabilities are programmed stitch patterns, automated thread tension management, and extensive speed control choices. 
Usha's high-end machines also include amenities like a digital touchscreen display for quick stitch selection and customising. The Brother sewing machine price in India is available with the same feature here. 
These electric sewing machines are ideal for people who want precision and adaptability in their sewing projects, such as garment designers, tailors, and ardent sewing lovers who work on a variety of creative and professional sewing chores.